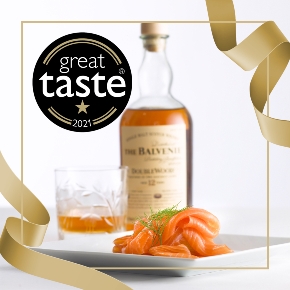 08/11/2021
By Christopher Leigh, Master Smoker, John Ross Jr
John Ross, Scotland's largest commercial smoked salmon producer to use traditional methods of production, has won a 2021 Great Taste Award for its Balvenie Whisky Cured Smoked Salmon.
The smokehouse was awarded the coveted one-star rating, making it one of just over 4,000 food and drink products worldwide to receive the accolade. Over 14,000 products across 108 countries were entered into this year's awards.
On reviewing the Balvenie Whisky Cured Smoked Salmon, judges claimed how the delicate smoke and whisky notes are present on the palate, and dance around the undoubted star of the show – the salmon itself. They also stated how the product is delicate, lightly smoked and with a pleasing hint of sweetness, which is never dominant and disappears slowly, to be followed by a very subtle hint of the whisky.
Every entry was blind-test tasted by a judging panel of 355 experts, which included Kenny Tutt, MasterChef 2018 champion and restaurateur, Xanthe Clay, presenter, author and tutor, and Steven Lamb.
Victoria Leigh-Pearson, Sales and Marketing Director at John Ross, comments: "We're particularly proud of our Balvenie Whisky Cured Smoked Salmon as it blends two of Scotland's most renowned food and drink products: smoked salmon and whisky. No matter how many times we're awarded with a Great Taste Award for one of our products, we never tire of it. A Great Taste Award is huge achievement and goes some way to recognise the efforts of our team of artisan food producers."
For more information visit www.johnrossjr.com.