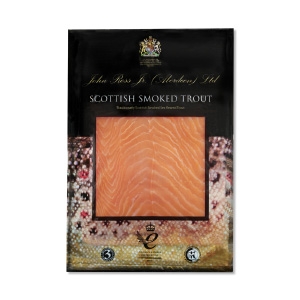 08/11/2017
By John Ross Jr
Fans of Scottish smoked fish looking for something new may be pleased to know that artisan Aberdeen smokehouse and smoked salmon connoisseur, John Ross Jr, has unveiled its new Scottish Smoked Trout in time for Christmas.
The new luxury product, which is smoked in traditional brick kilns dating back to 1857 using time-honoured, artisan techniques, is now available exclusively in almost 300 Waitrose stores nationwide.
Priced at £6.49 for a 200g pack, the product has been launched in time to feature on festive menus up and down the country and in response to growing demand for new smoked and cured 'ready-to-eat' fish products.
The exclusive partnership with Waitrose builds on the success the smokehouse has had with the nation's much-loved retail brand over the last 10 years.
Vicky Leigh-Pearson, John Ross Jr's Sales and Marketing Director, comments: "We often talk about smoked salmon as being that traditional, quintessential Christmastime dish. With our smoked trout product we're aiming to shake up that tradition and provide foodies with a greater choice of smoked and cured fish products and a chance to widen their smoked fish palettes. Our belief is that consumers want to try new smoked and cured products without having to compromise on quality; this latest product provides the perfect solution."
John Ross Jr first began supplying Waitrose with its 200g Traditional Smoked Salmon, which
For more information on John Ross Jr visit www.johnrossjr.com.