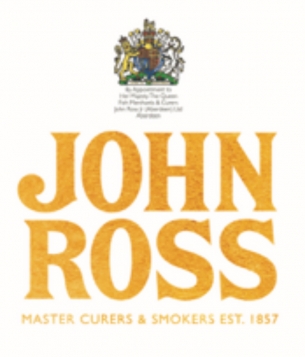 07/05/2019
By Vicky Leigh
World-renowned luxury smoked salmon producer, John Ross Jr, will reveal its striking new brand identity and packaging at this year's Seafood Expo Global as part of its commitment to breathe new life into the global smoked salmon category and reposition its award-winning product range.
In stark contrast to its iconic black and gold packaging, a design that the award-winning smokehouse claims has been widely copied by other producers, John Ross has taken the bold decision to introduce a contemporary white design that includes a respectful nod to its Scottish heritage and regal associations with a saltire motif.
John Ross's new identity is expected to build on its loyal following, which spans 36 countries worldwide, and appeal to the growing number of Millennials and their successors, Generation Z-ers, who are increasingly interested in provenance and the craftsmanship that goes into producing high quality products.
As part of its strategy John Ross enlisted the expertise of Big Fish Design, the UK's leading food branding agency and creative brains behind prominent food brands including dessert specialists Gü, Tyrrells, Sipsmith, Dorset Cereals and Whole Earth.
The Royal Warrant-holding and Queens Award for Enterprise-winning smokehouse, which grew from humble beginnings as an artisan smoker to a globally acclaimed producer whilst retaining its dedication to time-honoured techniques and craftsmanship, is listed in key major multiple retailers in the UK and overseas.
Its traditionally prepared smoked salmon and speciality smoked salmon also features on menus worldwide including the BA First Class Lounge and leading international, luxury hotels and restaurants.
Victoria Leigh-Pearson, Sales and Marketing Director, comments: "We've got a lot to thank our black and gold design for, which, along with our high quality smoked salmon, has been behind decades of growth and positioned us as Scotland's leading producer of luxury traditional smoked salmon. However, we can't ignore the enormous opportunity staring right at us, which is to become a luxury international household fish brand. Honouring our heritage whilst evolving in a modern way was important to us, as was listening to consumers during the process. This striking new design will help us reach a wider demographic and the response to previews and consumer research has been overwhelmingly positive so far."
The new identity builds on a tradition of success, reinforces its core value of being a master of its craft and honours the heritage behind the smokehouse, which uses traditional brick kilns dating back to 1857.
Stage one, which includes the new brand mark and saltire-themed packaging, will see the new range hit shelves in the UK and overseas in planned phases throughout quarters three and four. Stage two, which will see John Ross unveil a raft of new products, is expected to begin early 2020.
Perry Haydn Taylor, Founder and Creative Director at Big Fish, adds: "We're proud to be helping John Ross realise its true potential as the pre-eminent Scottish smoked salmon brand."
Victoria concludes: "Our core focus is now to entice new people to the category and appeal to a broader audience; with the iconic new look and feel we're confident that we can reaffirm our position as leaders of the smoked salmon category and become synonymous with everyday luxury."
For more information on John Ross visit www.johnrossjr.com.