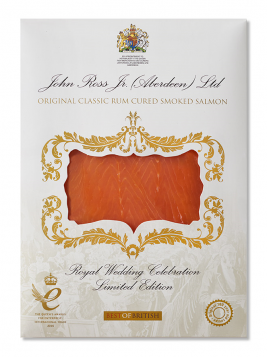 19/04/2018
By Vicky Leigh
As the excitement mounts for the wedding of the year, fish merchants and curers by appointment to Her Majesty the Queen, John Ross Jr, are celebrating the historically happy occasion by launching a celebration smoked salmon that marries rum with smoked salmon.

The Original Rum Cured Smoked Salmon, which is presented in a bridal white pack, draws on a 160-year old recipe using rum and sugar cane to create a unique and distinct flavour.

The new product is available in 90 Waitrose stores across the south east of England, UK independent retail stores, retailers across Europe and online at www.johnrossjr.com from 23 April until the end of May, or until stocks last, priced at £5.99 for 150g.
The product, which made its first appearance since the 19th century at the Coronation Festival, a 60th anniversary of The Queen's Coronation staged in the gardens of Buckingham Palace in July 2013, has since been refined to provide a more rounded sweetness and an extra succulent texture.

Slowly smoked in John Ross Jr's signature traditional brick kilns on Aberdeen Harbour for up to 24 hours after being marinated with rum by the Master Smoker, the Aberdeen-based smoked salmon producer believes that this is the 'best interpretation yet' of a recipe that was first introduced to the Scottish community in 1857.

Despite the anticipated success of its Original Rum Cured Smoked Salmon and high mainstream demand for the product following its initial reception in 2013, the firm maintains that it will only reserve it for special occasions.

As Christopher Leigh, CEO at John Ross Jr, says: "The first of two royal weddings this year is bound to bring joy and happiness to not just millions but billions of people and we couldn't help but mark these special occasions in our own way. So many people show love through food and it seemed so fitting to celebrate in the best way we know how. We feel that this represents a fitting way for John Ross Jr to pay its respects and celebrate the marriage of Prince Harry and Megan Markle and we wish them every happiness for the future. "

For more information on John Ross Jr visit www.johnrossjr.com.