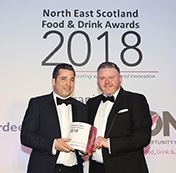 13/04/2018
By John Ross Jr
John Ross Jr has been crowned winner of the North East Scotland Food & Drink Awards after winning the Best New Retail Product Award for its Smoked Trout.
The product, which was launched exclusively across 300 Waitrose stores UK-wide in 2017, beat five other category finalists including Donald Russell and was awarded to the Aberdeen-based producer during a ceremony hosted by BBC Radio Scotland's Stephen Jardine.
The awards, which were delivered in partnership with Opportunity North East (ONE) and Aberdeenshire Council, aim to recognise innovation, skills development and entrepreneurialism, as well as celebrate new products in the retail, foodservice and brewing and distilling sectors.
On receiving the award Christopher Leigh, John Ross Jr's CEO, comments: "We're delighted to have won an award for a product that represents an evolution from the range of smoked salmon products that we're now internationally renowned for. Our decision to create a smoked trout product, of which we're extremely proud of, reflects the ethos of the North East Scotland Food & Drink Award, which places huge importance on product innovation. We now look forward to extending this particular product's reach and developing a wider range of smoked and cured fish products."
Winners of the 2018 awards include celebrated Scottish brands including Balvenie St. Ice Cream, The Lost Loch Distillery and Wooha Brewing.
Pat Machray, Chairman of Opportunity North East's Food, Drink & Agriculture Board, adds: "These awards promote North East Scotland's food and drink industry, which is a sector of national significance. At ONE, we see food, drink and agriculture at the heart of our future economy. We want to ensure we have a pipeline of start-ups and growing companies to provide new employment across the region. That growth will come from innovation in product development and reach across UK and international markets."
Belinda Miller, Head of Economic Development & Protective Services with Aberdeenshire Council, concludes: "Food and drink businesses have a vital role to play in our economy today and in the years to come. This year's awards showcase the very best our area has to offer in terms of innovation, quality produce and pride in our region, helping put North East Scotland on the international stage."