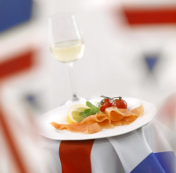 29/05/2013
By Vicky Leigh
The Gardens at Buckingham Palace will be the venue for a special one-off event to celebrate Her Majesty's Coronation on July (11th-14th) and John Ross Jr is delighted to be the official smoked salmon supplier and partner at this very exclusive Coronation Festival.
As a proud holder of the Royal Warrant John Ross Jr has been supplying Her Majesty's royal kitchens with smoked salmon and smoked and fresh fish for 24 years - we are very excited to be showcasing our products at this once-in-a -lifetime celebration.
If you are visiting the Coronation Festival please do come and see us at the Food & Drink marquee and see first hand our artisan smoking methods in action via our simulated brick kiln.
COMING SOON….
So that everyone can be involved we will be launching a very special, limited edition 200g pack of our 'ORIGINAL' classic smoked salmon in celebration of Her Majesty's Coronation.
Using our recipe that dates back 150 years – the salmon is marinated in dark rum, this uniquely created pack will be presented in a beautiful gold sleeve and royal design.
Priced at £3.85 per pack (RRP £7 per pack) this would make a perfectly timed and seasonal addition to your range. Also available in sliced sides for food service at £16.85 per kilo - please call us on 01483 224900 or email Vicky@johnrossjr.com if you would like to pre-order or know more about this limited edition smoked salmon - available for a limited time only.