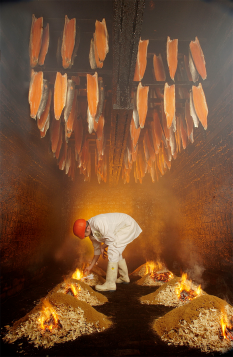 25/09/2018
By John Ross JR
Aberdeen-based smoked salmon producer, John Ross Jr, is in the running for the Meat, Poultry and Seafood Manufacturing Award at this year's Food Manufacture Excellence Awards after being shortlisted alongside four other major UK producers.
The awards, which celebrate outstanding achievement within the UK's fast-growing food and drink industry, take place on Wednesday 7 November at the London Hilton on Park Lane and will reveal one winner from each of the 11 categories.
The smoked salmon producer, which has held the Royal Warrant for over two decades and uses traditional brick kilns dating back to 1857, is already a double A-graded BRC facility, which places it in the top tier of worldwide producers that have demonstrated the highest standards within the food production industry.
It is also a two-time Queen's Award winner and a Scottish manufacturer that has created demand for its products from 34 countries worldwide in just over three decades.
John Ross Jr's CEO, Christopher Leigh, comments: "To be shortlisted for these awards is a huge pat on the back for the team at John Ross Jr who work tirelessly to produce the very best product to the very highest standards. Without their commitment to quality procedures and rigorous production methods we wouldn't have the world-class products we have today. We're delighted to have been shortlisted, proud to have been acknowledged as a manufacturer that's focussed on upholding the very highest standards and we now look forward to finding out the winner."
The Food Manufacture Excellence Awards have been running for 18 years and established a coveted mark of quality and excellence. Other awards up for grabs in November include Bakery Manufacturing Company of the Year, Soft Drinks Manufacturing Company of the Year, Dairy Manufacturing Company of the Year and Ingredients Manufacturing Company of the Year.
Judges evaluate all aspects of the businesses' approach to food and drink manufacturing including environmental initiatives, business acumen, business change management, supply chain innovation and young talent and teamwork.
For more information on the Food Manufacture Excellence Awards visit https://www.foodmanawards.co.uk.