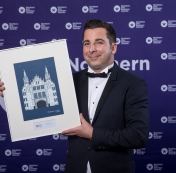 26/09/2016
By John Ross Jr
Aberdeen smoked salmon producer, John Ross Jr, has won the Award for Achievement in International Business at a ceremony that welcomed 39 finalists across 13 categories and 700 guests at the Aberdeen Exhibition and Conference Centre.
The Northern Star Business Awards, which are organised by Aberdeen & Grampian Chamber of Commerce (AGCC), seek to celebrate companies within the region that have excelled in a number of areas including innovation, energy and customer service.
John Ross Jr's Managing Director, Christopher Leigh, was presented with the Award for Achievement in International Business for establishing an export programme that now sees the Scotland's largest producer of traditional Scottish smoked salmon supply 32 countries around the world.
The victory comes less than six months after the firm won the coveted and internationally recognised Queens Award for Enterprise: International Trade 2016.
On receiving the award Christopher comments: "This is an important award win for us. Not only because it recognises our achievements in international trade, but also because it's a regional award that recognises the very best that Aberdeen has to offer. We're proud to be a Scottish firm, proud that Scotland continues to represent a mark of excellence for many countries throughout the world and proud to have been recognised by AGCC. I'd like to thank the John Ross Jr team for their continued hard work and we now look forward to growing our international business and playing a key role within the regional business community."
Located on what was formerly one of the busiest fishing ports in the world, John Ross Jr continues to use time-honoured production techniques that have existed for centuries and uses traditional brick kilns dating back to 1857 to smoke salmon that many world-class chefs have claimed to be the best in the world.
Russell Borthwick, AGCC Chief Executive, adds: "The chamber is committed to celebrating business success. Despite the difficult economic climate, Northern Star entry levels remained high in terms of quantity but most importantly quality, making these awards a true benchmark of business excellence in north east Scotland."