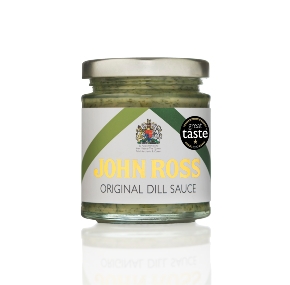 10/11/2020
Waitrose has added a second John Ross line to 150 of its stores nationwide after deciding to list the Scottish smoked salmon producer's award-winning Original Dill Sauce.
The Original Dill Sauce, which has just won a one-star Great Taste Award 2020, now joins the smokehouse's 200g Traditional Scottish Smoked Salmon, which Waitrose has listed in all stores nationwide since 2005 and that has also just won a one-star Great Taste Award. A 700g pack of Traditional Scottish Smoked Salmon is also available in 34 Waitrose stores.
The product, which provides a creamy combination of mild mustard and aromatic dill that brings out the best in fish and meat, is available in 175g jars priced at £2.99 from the end of October.
Caroline Stanway, Buyer at Waitrose, comments: "We are excited to be able to offer our customers the new John Ross Original Dill Sauce. We know our customers love fresh and cured fish and this is a great accompaniment for them to elevate some of their favourite dishes."
Vicky Leigh-Pearson, Sales Director at John Ross, comments: "We're delighted to build on our longstanding relationship with Waitrose and introduce yet another award-winning product to one of the UK's most well-known supermarkets. The Original Dill Sauce is a perfect accompaniment to any salmon product and we're eager to see how it's received by Waitrose customers."
John Ross, which is situated on Aberdeen Harbour, uses traditional 19th century brick kilns to produce its range of artisan smoked salmon products. The smokehouse exports to 36 countries worldwide, supplies a range of international supermarkets and is also listed in other UK supermarkets including Sainsbury's and Tesco.
For more information visit www.johnrossjr.com.