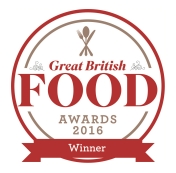 17/08/2016
By John Ross Jr
John Ross Jr has been crowned national artisan food and drink champion after winning the Smoked Fish category in the 2016 Great British Food Awards for its Balmoral Fillet – the fillet steak of the smoked salmon.
The Balmoral Fillet beat runners up J Lawrie & Sons Oak Smoked Kippers and The Real Cure Cold Smoked Piddle Trout to win the national award category, which was judged by the three-time Great British Menu winner, TV personality and author, Richard Corrigan.
Launched three years ago, the Great British Food Awards were set up to provide a platform for the skilled and passionate artisans behind the nation's finest speciality food and drink.
Christopher Leigh, Managing Director at John Ross Jr, comments: "We're overwhelmed by the continued success and the growing number of awards that The Balmoral Fillet continues to achieve. We'd like to thank the team at John Ross Jr for their tireless commitment to achieving the very highest standards in salmon smoking and curing, the Great British Food Awards for recognising our commitment to producing great food and Richard Corrigan, for choosing The Balmoral Fillet amongst many other deserving producers."
All of the produce entries were initially short-listed based on the producer's commitment to provenance and local sourcing, then taste tested by a panel of some of the top names in British food including chef Rosemary Shrager and Great British Bake Off winners Edd Kimber and John Whaite.
Natasha Lovell-Smith, Editor of Great British Food magazine and chair of the judging panel, adds: "I was truly blown away with the quality of entries this year. Our judges had a very tough job having to choose the best from such a brilliant selection, but I'm delighted with the results. We had entries from producers of all sizes, from every corner of the UK, and the quality of food was just outstanding. Our judges are experts in their fields, and all of our winners, runners up and finalists should feel very proud indeed!"
To buy The Balmoral Fillet click here. For more information visit www.johnrossjr.com or contact 01224 876677.