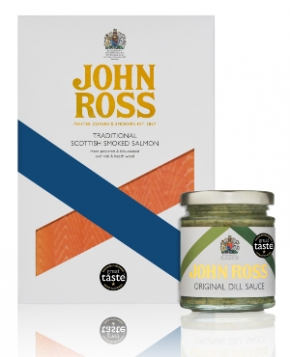 07/10/2020
By Christopher Leigh, Master Smoker, John Ross Jr
John Ross has won a coveted 1-star Great Taste Award for its Dill Sauce and another for its multiple award-winning Traditional Smoked Salmon - the product that launched the business and made it internationally recognised in 36 countries worldwide.
Originally launched for people to enjoy alongside smoked salmon, John Ross's Original Dill Sauce, which combines mild mustard with aromatic dill to bring out the best in fish and meat, has now established a following amongst those who also enjoy it with steak.
A total of 12,777 products across 106 countries were entered for this year's awards. Only 3,818 received the 1-star grade after 144 judges, ranging from restaurateurs, buyers, chefs and food critics tasted each product through a combination of remote judging and socially distanced judging.
The panel of judges this year included cook, writer and champion of sustainable food, Melissa Hemsley; cook, writer, stylist and voice of modern vegetarian cooking, Anna Jones, celebrated Spanish chef, José Pizarro; Kavi Thakrar from Dishoom; food writer and cook, Xanthe Clay, and baker and author, Martha Collison, as well as food buyers from Selfridges, Fortnum & Mason and Waitrose.
Christopher Leigh, CEO at John Ross, comments: "We've won many Great Taste Awards over the years, yet despite this, every award feels like a huge achievement and we're always proud to receive recognition at this level. These awards are testament to the great team we have in place and their continued dedication to the craft of producing fine foods from Scotland."
The smokehouse, which is situated on Aberdeen Harbour and uses traditional 19th century kilns, has just agreed a deal with Waitrose to supply the Dill Sauce in 150 stores nationwide. It joins the 200g pack of Traditional Smoked Salmon, which has been available in all Waitrose stores nationwide since 2005.
For more information on John Ross Jr and Great Taste Awards visit www.johnrossjr.com and www.gff.co.uk respectively.